Jaki stół wybrać?
Stół to centrum każdego domu, wokół którego toczy się życie rodzinne. To przy nim spotykamy się z bliskimi, toczymy ważne rozmowy lub relaksująco gawędzimy przy kawie. W każdym razie spędzamy przy nim znaczną część naszego domowego życia. Wybór stołu to nie lada wyzwanie. Oferta sklepów meblowych jest tak szeroka, że łatwo o dezorientację. Na co więc zwrócić szczególną uwagę?
Przede wszystkim stół powinien być dopasowany do funkcji, jaką ma pełnić w naszym mieszkaniu. Na początek warto więc zastanowić się, jakim celom będzie służył – czy będzie jedynie stołem do jadalni, czy też wielofunkcyjnym meblem? Ile osób chcemy przy nim pomieścić? Czy chcemy doraźnie zagospodarować przestrzeń, czy też stół ma się stać integralną częścią wystroju i inwestycją na lata. Odpowiedziwaszy sobie na powyższe pytania, łatwiej podejmiemy decyzję co do poszczególnych kryteriów: wielkości, kształtu, koloru, materiału, faktury...
Kiedy w mieszkaniu brakuje miejsca lub po prostu cenimy sobie funkcjonalność, warto zdecydować się na rozwiązania uniwersalne. Takim pomysłem jest stół Opera dostępny w sklepie internetowym Extra Punkt. Na co dzień może służyć za elegancki, okrągły stolik kawowy o niewymagających wielkich pomieszczeń wymiarach – 90 x 90 cm. Stół jest wyposażony jednak w funkcję rozkładania i po jej wykorzystaniu przemienia się w jadalniany stół, przy którym mogą wygodnie zasiąść cztery osoby. Stół Opera jest wykonany z litego drewna, które daje efekt klasycznej elegancji i jednocześnie zapewnia trwałość. Piekny, głęboki orzechowy kolor każdemu wnętrzu przyda przytulności i ciepła. Stół wspiera się na jednej stabilnej nodze, co nadaje bryle smukłości.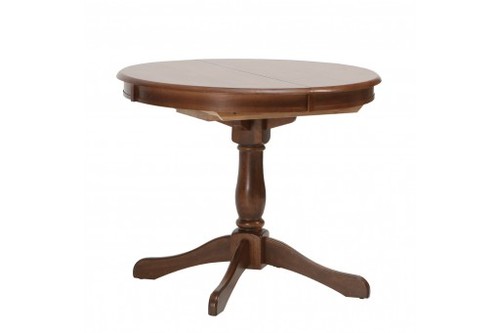 Klasyczny, okrągły stół drewniany z pewnością stanie się ozdobą zarówno salonu jak i jadalni. Zwłaszcza, jeśli reszta wystoju będzie przemyślana i dobrana ze smakiem. Dostępne są również krzesła Opera, na które warto zwrócić uwagę przy kompletowaniu umeblowania, ponieważ idealnie komponują się ze stołem, a przy tym zarówno krzesła jak i stół nabyć można w promocyjnych cenach.
Źródło: AchA PR / budnet.pl
Komentarze
Tagi